Microblading Is an Art — And You Are the Masterpiece
Our Permanent Makeup Artist, Shanna Angel, performs the most highly anticipated form of tattoo artistry that mimics hair strokes, natural hair color, texture, and growth pattern. Shanna is a fully licensed tattoo artist for the state of Florida and is triple certified in Microblading, Combo Brows, and Lip Blush.
While there are many techniques and patterns when it comes to Microblading, Shanna uses a pattern that exhibits depth throughout the eyebrows as well as a natural direction of each hair stroke. With Combo Brows, our artist is able to use a combination of Microblading with Shading to add boldness and definition while creating a more powdered brow effect. Our microblading artist uses top-of-the-line pigments, disposable microblades, and aftercare made by tattoo artists for microbladed eyebrows to ensure great retention and lasting results.

Increase Brow Fullness

Add Shape & Dimension

Natural-Looking Color & Lines

Long-Lasting (1-3 Years)

Low-Maintenance Aftercare
Who Is the Ideal Candidate for Microblading?
Most people are candidates for Microblading, especially those with small pores, those who have overplucked throughout the years, and who have very light brows. Even clients who already have hair can get Microblading performed so as to achieve a fuller and more defined brow. A client who has never had their eyebrows Microbladed is the most ideal candidate as we will have a clean canvas to work with and be able to customize their set of brows according to their bone structure. Clients who have had previous Microblading or tattooing on their eyebrows from another artist may need color correction which can be achieved with the combination of Microblading with Shading.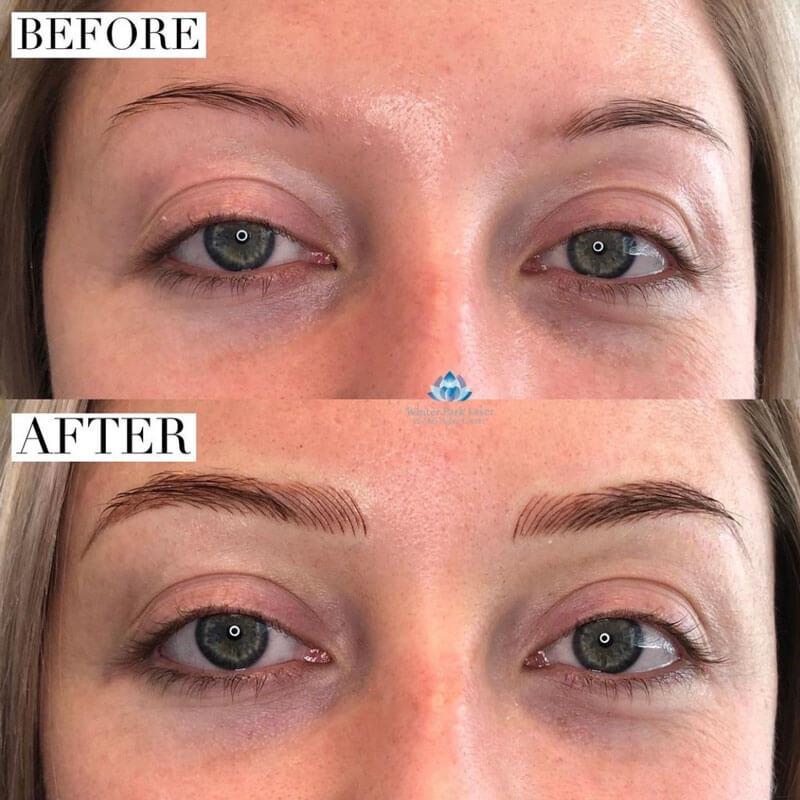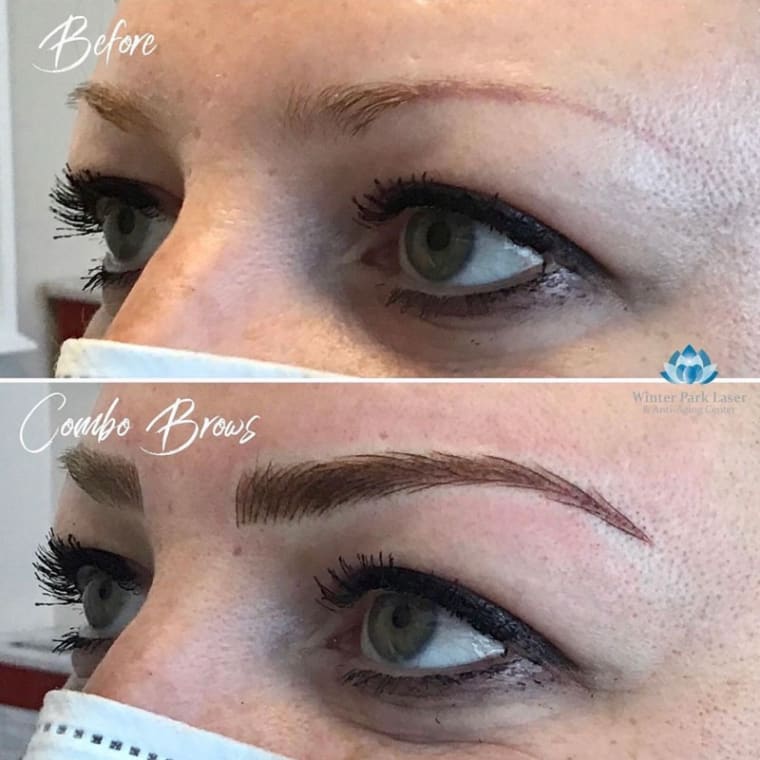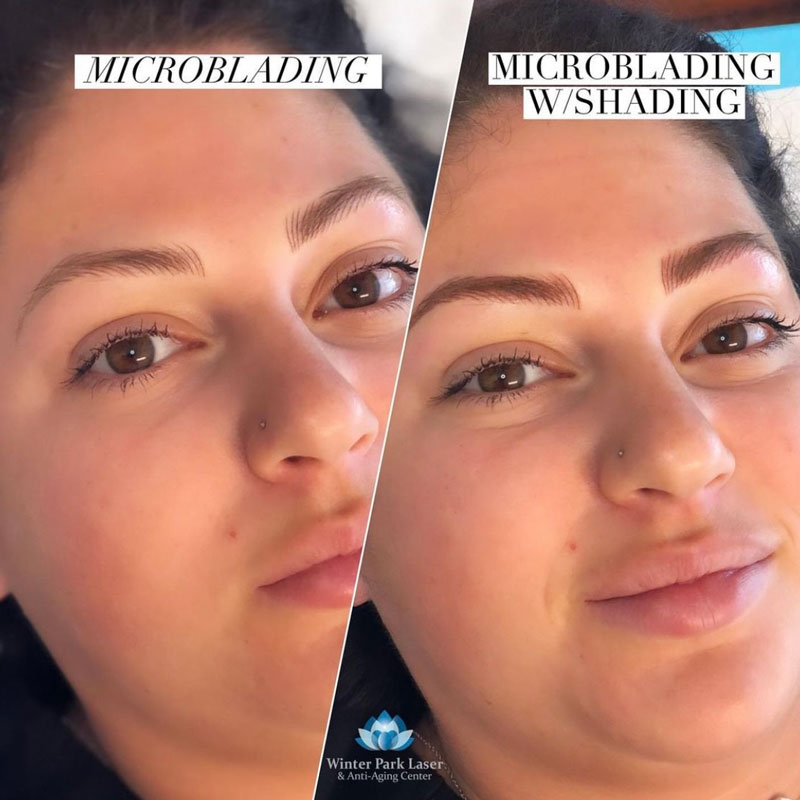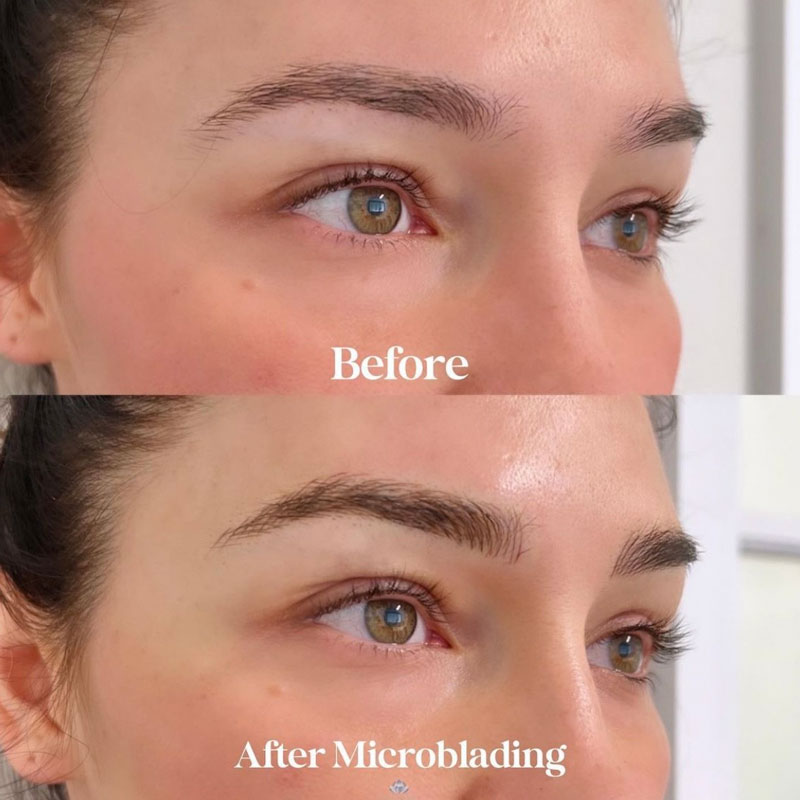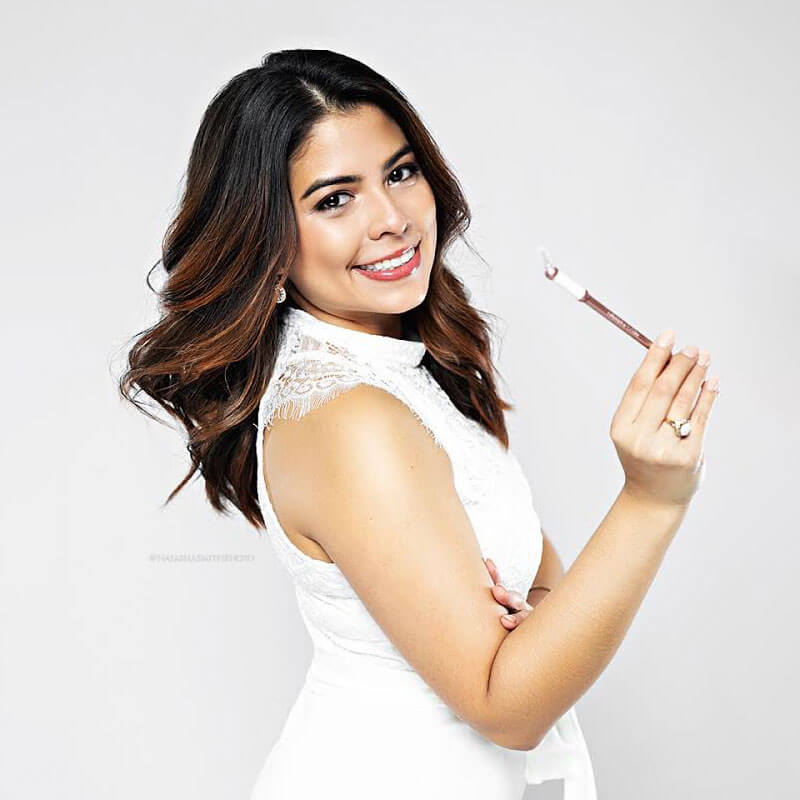 Before & Afters by Permanent Makeup Artist Shanna Angel
Are There Contraindications?
Like with most procedures there are still restrictions/contraindications to keep in mind. The following conditions are considered contraindications for Microblading:
Pregnant and lactating women

Skin diseases: psoriasis, eczema, and undiagnosed rashes/blisters on the area to be treated

Skin cancer in area being treated

Heart conditions/high blood pressure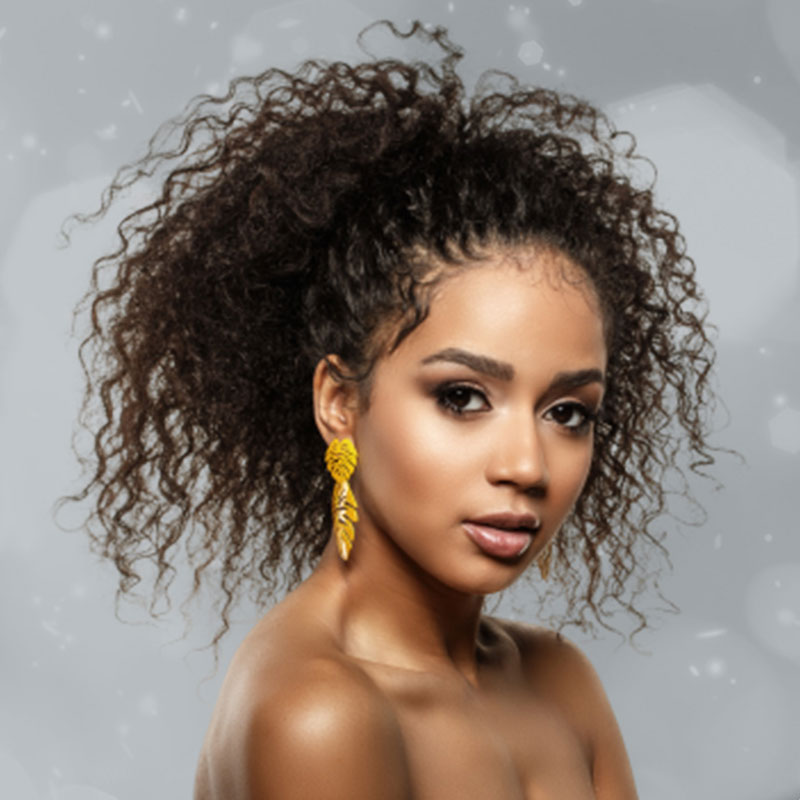 What Are the Pre-care Instructions Prior to My Microblading Appointment?
So you have officially booked your Microblading appointment and are ready to prep for your big day! Listed below are your guidelines to review prior to your appointment.
Do not work out the day of the procedure as the body heat will expand the pores.
Do NOT drink alcohol 24 hours before the procedure.
Do NOT drink coffee or anything with caffeine on the day of the procedure.
Do NOT take Aspirin, Niacin, Vitamin E and/or Ibuprofen, omega-3, unless medically necessary, 48-72 hours prior to the procedure. Tylenol or acetaminophen is okay.
Avoid heavy sunlight and especially sunburn 3 days before the procedure. Your skin should not be in the process of healing before the procedure!
The following treatments should be avoided within the indicated time from the procedure:
Waxing, Threading, or Tweezing (3 days prior)
A Chemical Peel/Glycolic Facial/AHA's/Retinol/Anti-Aging Products (4 weeks prior and after)
Botox/Filler Treatment (wait at least 2 weeks prior to and after the touch-up is healed; it is preferred that Microblading is performed first and then Botox once brows are healed)
Laser Treatments (4 weeks prior and after)
What Are the Post-Care Instructions After My Microblading Appointment?
The next step to achieving and maintaining your new eyebrows is following your aftercare instructions carefully. This is a crucial step to follow post-treatment to ensure the longevity of your pigmented brows.
First thing after your Microblading procedure your brows may feel tender or raw—this is normal. Do not apply any type of soap, cleanser, or makeup. Do not get your brows wet in the shower.
24 Hours After & Seven Days Post-microblading Procedure
After 24 hours and up to seven days, you will have a care routine to follow once a day. Certain activities should be avoided for 14 days thereafter. Upon complete healing, apply sunscreen to your eyebrows.