Correct Sun Damage & Reduce Pore Sizes With IPL Treatments in Winter Park, FL
Winter Park Laser & Anti-Aging Center
provides IPL (intense pulsed light) and fractional laser treatment services to clients throughout Winter Park, FL, and the surrounding areas. We boast a wide range of skincare treatments, including those that help diminish the appearance of sun damage and pore sizes. Our non-invasive IPL skin treatments produce immense anti-aging and photoaging benefits by removing or diminishing the appearance of pigmented lesions, sun spots, age spots, and broken capillaries. Winter Park Laser & Anti-Aging Center takes pride in restoring beautiful and clear skin to our clients. During your consultation, we'll determine if IPL therapy is the best anti-aging treatment for your needs.

Targets Signs of Aging

Stimulates Collagen Production

Balances Complexion

Regenerates Healthy Cells

Repairs Skin Damage
Intense Pulsed Light (IPL) Therapy treatments help reduce the appearance of sun damage, broken capillaries, and pore sizes while reversing years of sun spots and age spots. It also boosts elastin and collagen production to regenerate healthy cells that tighten and smooth skin. IPL safely and effectively treats many skin conditions, including: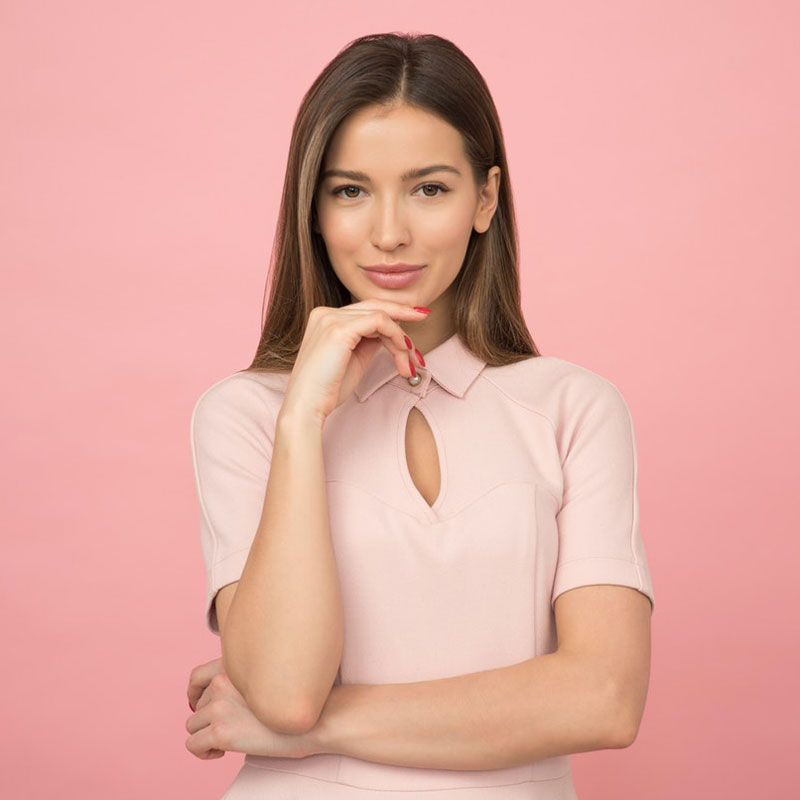 Who Is a Candidate for IPL Treatment?
Patients who have melasma or are overly tan are not viable candidates for treatment as light rays attract pigment, making dark skin and patches of melasma darken further. Additionally, patients who smoke are not typically recommended for IPL photofacials; smoking counteracts the benefits of treatment due to carcinogen exposure, which results in prematurely-aged skin.
Patients with skin types that range from the light brown of IV to the darkest hues of VI are generally not optimal candidates for a photofacial. Patients with lighter skin tones (but not pale complexions) who fall between Fitzpatrick types III and IV may see effective results from IPL treatment, but these candidates tend to require more sessions to receive this outcome. Successful IPL recipients are most often categorized in the I and II scales of the Fitzpatrick system. The Fitzpatrick Skin Type Scale is below.
Very fair skin that always burns and never tans.
Fair skin that almost always burns but tans poorly on occasion.
Darker white to pale brown skin that tends to tan after burning.
Light brown skin that tans easily and experiences minimal burns.
Brown skin that tans and darkens easily and rarely burns.
Dark brown to black skin that exclusively tans and never burns.
How Do IPL Photofacials Work?
This light energy focuses on pigments inside your skin, increasing the temperature of the pigmented cells and breaking them up into small particles. Your body naturally eliminates these particles through its lymphatic system. Photofacials can also stimulate the body's natural wound response, boosting collagen and elastin production. Increased collagen improves the texture and appearance of lines and wrinkles.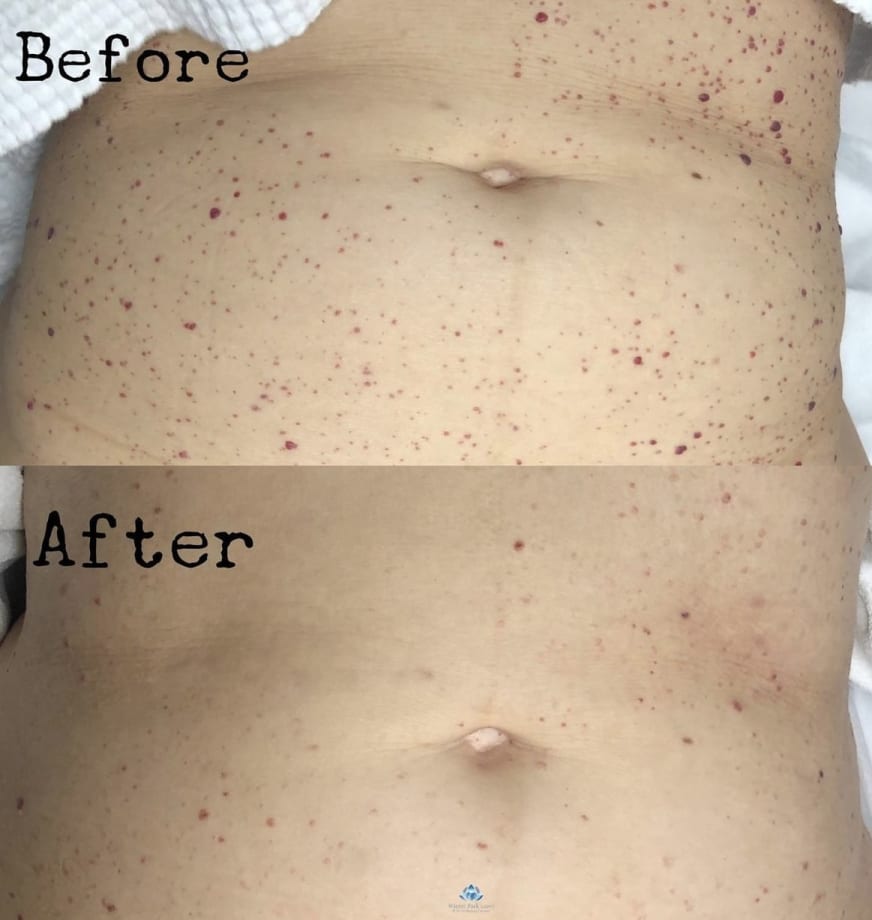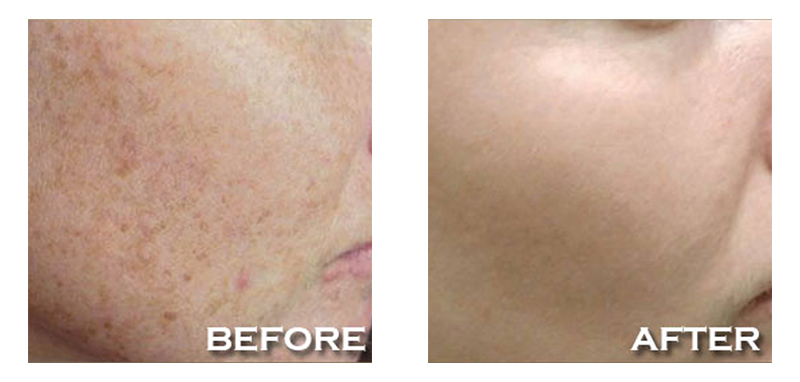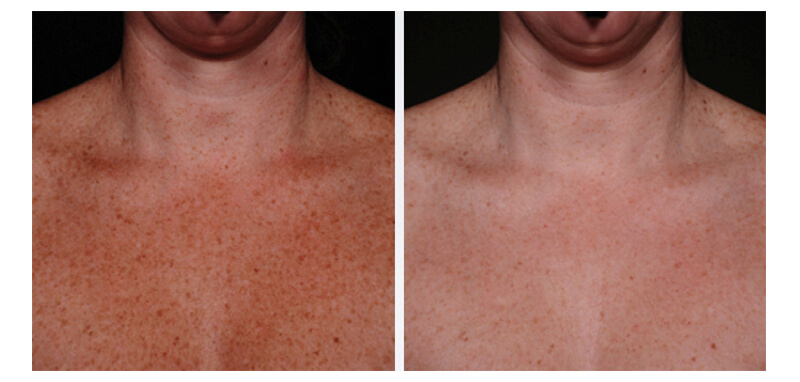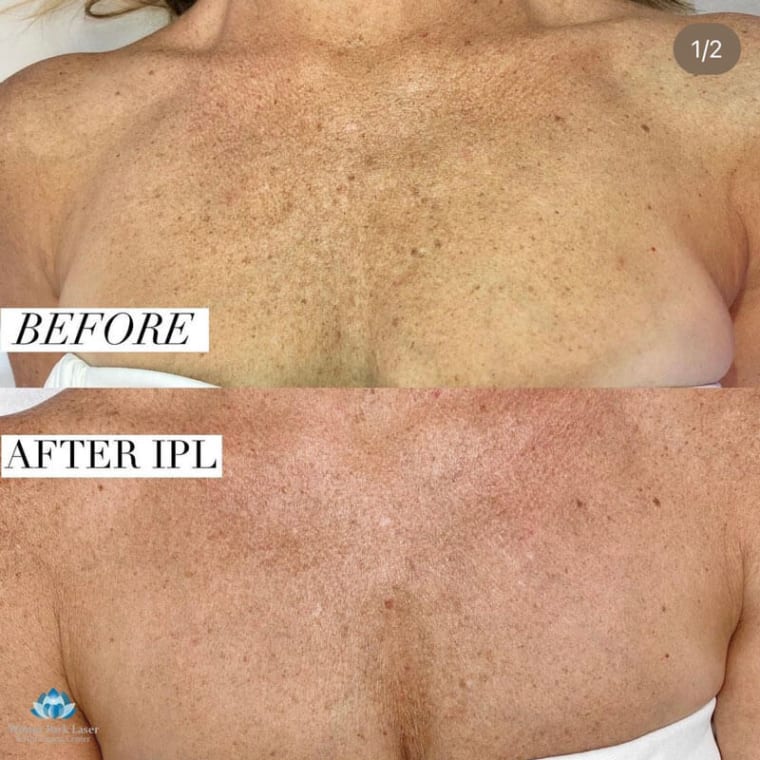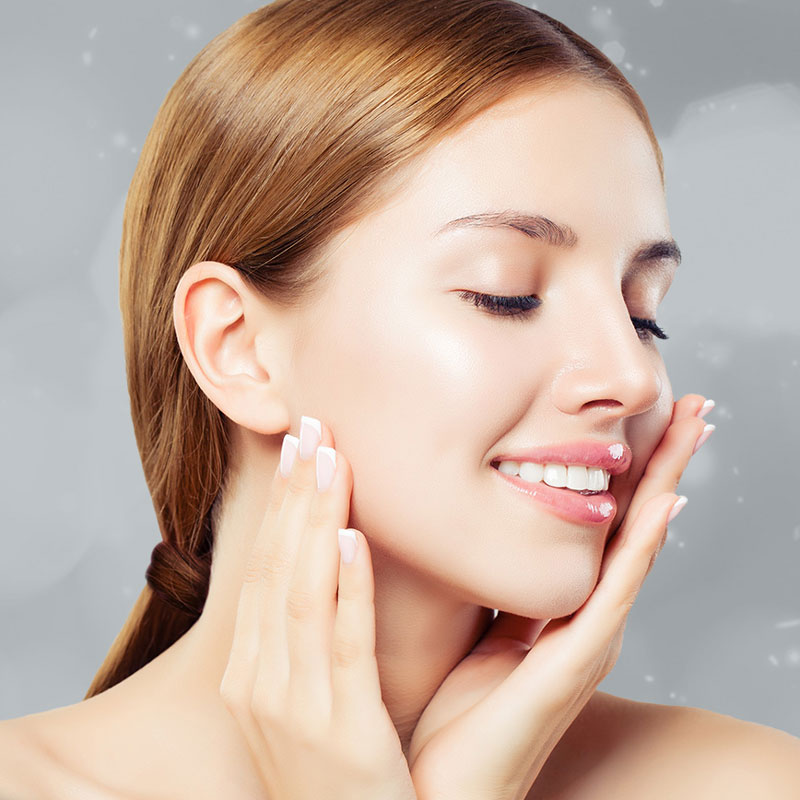 How Does Photoaging Cause Skin Damage?
Years of constant sun exposure accelerate the negative impacts of photoaging, which frequently manifest as increased melanin production. Since melanin is produced by the biological processes that occur in response to sun exposure, an elevated melanin level may cause certain areas of the skin to darken the colors of one's complexion. Melanin production creates freckles, sun spots, and patches of pigmented lesions.
Furthermore, the sun's UV rays cause our skin to dry out, lose moisture, and struggle to retain essential nutrients. All of these factors contribute to the acceleration of aging processes and significantly exacerbate damage to skin cells. Poor nutrient absorption causes collagen and elastin fibers to weaken over time; the consequent loss of natural elasticity contributes to the appearance of aged and weathered skin.
Learn More About IPL Treatments
What Happens Before IPL Treatment?
All patients interested in photo-rejuvenation and photofacial services should have realistic expectations about their results before treatment.
What Happens During IPL Treatment?
Most of our patients find IPL photofacials a relatively comfortable experience and report only a slight sensation of mild warmness from the concentrated pulses of photon energy.
After IPL Treatment: What to Expect
IPL photofacials require no downtime, although you will need to take certain precautions to ensure your skin stays safe and healthy.
Typical Results of Photo Facials & Photo-Rejuvenation
IPL therapy focuses on boosting your body's natural processes, so multiple sessions gradually stimulate and support healthy collagen formation. You may notice powerful positive IPL results, including pigmented lesions that come to the surface and slough off, shrinking red and blue blood vessels, and healed sun spots and age spots. Your skin will gradually appear younger, brighter, smoother, and healthier. We recommend at least three to five sessions for optimal results following a photofacial.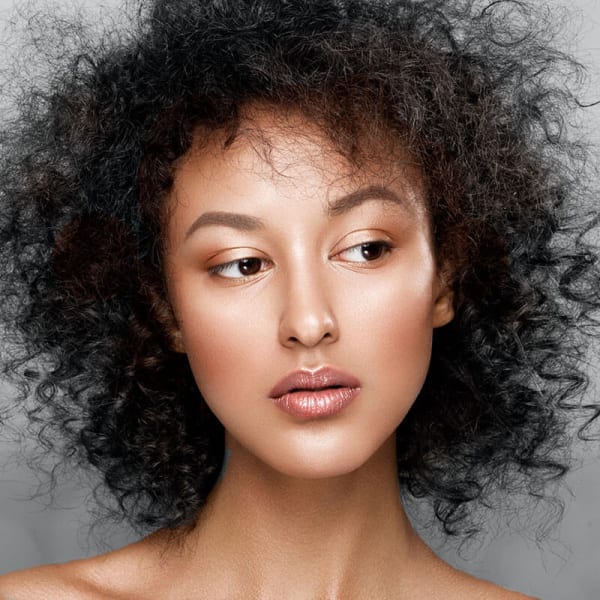 Discover the Power of Cynosure Technology
The Cynosure Icon 1540 utilizes fractional laser technology to revitalize the skin. By integrating Dynamic Spectrum ShiftingSM with dual-band filters (a process of uniform heat distribution), Cynosure encourages a reduction in the size and appearance of varicose and discolored veins. Furthermore, its intelligent programming picks up certain wavelengths of the color spectrum to target lesions, areas of hyperpigmentation, unwanted birthmarks, and even acne scars.
At Winter Park Laser & Anti-Aging Center, we take pride in restoring beautiful and clear skin to our clients. If the effects of aging and sun exposure have been unkind to your skin, schedule a consultation with one of our expert aestheticians to learn about our IPL photofacials and photo-rejuvenation sessions. Using precisely concentrated pulses of focused light, our innovative treatments can successfully repair years of photoaging and skin damage.
We Also Offer FX Laser Treatment – But What Is It?
FX laser treatment is a fractional laser resurfacing treatment that treats a "fraction" of the skin's surface. Fractional laser treatment is non-invasive and delivers a laser beam via a device. The beam is divided into thousands of microscopic treatment zones, which target a fraction of the skin at a time. The untreated skin remains intact. Also called fractional skin resurfacing, this treatment leaves healthy, untouched skin that helps to speed up the healing process of the areas that underwent the treatment.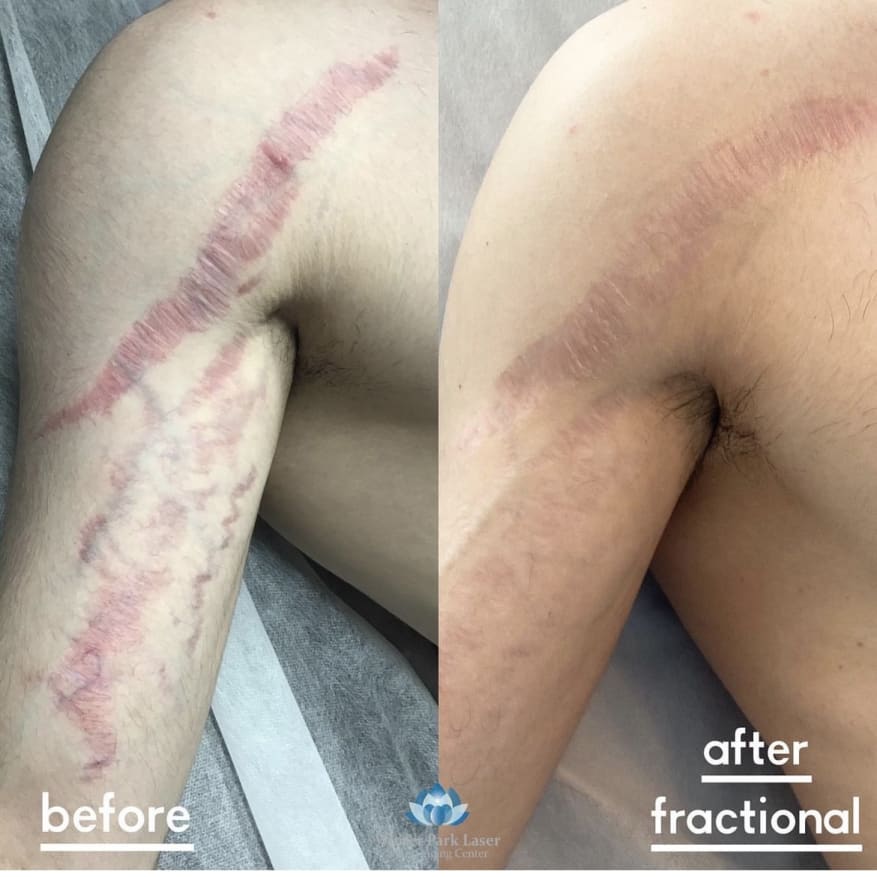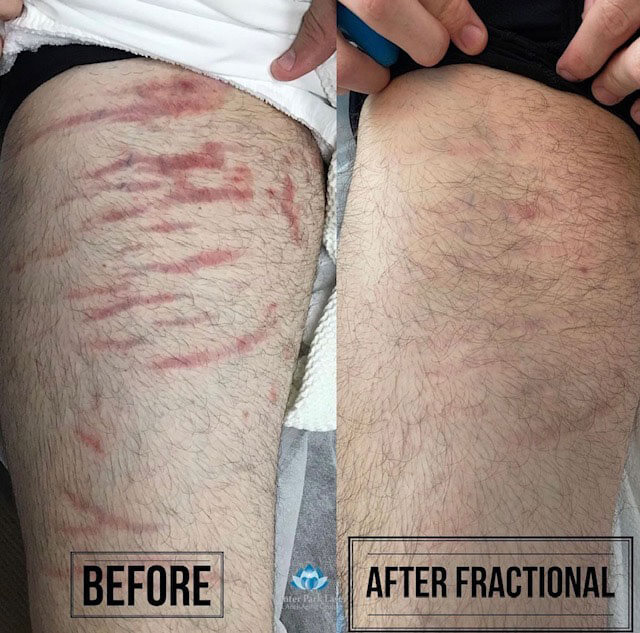 Contact Us About IPL & Fractional Laser Treatment
No matter what skincare treatment you seek, you can find it at Winter Park Laser & Anti-Aging Center in Winter Park, FL. With well over a decade of experience, we've become Winter Park's go-to med spa for all things skincare. We offer IPL services and fractional laser treatments, and we can help you determine which is best for your unique needs and skin type. To learn more or to schedule a consultation with our expert team, contact us today. We look forward to serving you.